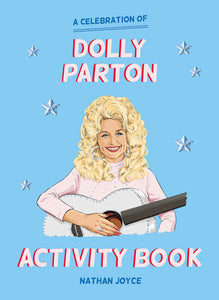 A celebration of one of the most-honored performers of all time, who reaches across generations, cultures, political parties and continents
 
Rising to fame as a country singer in the 1960s, Dolly Parton has since become, and continues to be, a pop-culture icon and unifier. As well as being considered one of the greatest musicians of the 20th century, she is also a shrewd businesswoman and is known for using her vast fame and fortune for good, having set up various charitable foundations.
This celebration of the living legend includes fun activities such as a "How much Dollyou know?" quiz, coloring-in, mazes, spot-the-difference and more, alongside wit and wisdom from Dolly on love, femininity, women in business, fashion, and life. There are also fun fact features and sections exploring Dolly's feminist ideals, humanitarian work, and influence.