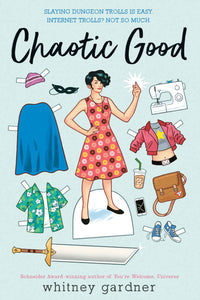 Cosplay, comic shops, and college applications collide in this illustrated novel, perfect for fans of Adam Silvera and Noelle Steveson!
Cameron's cosplay creations are finally starting to earn her attention--attention she hopes to use to get into the CalArts costume design department for college. But after she wins a major competition, she inadvertently sets off a firestorm of angry comments from male fans online.
When Cameron's family moves the summer before her senior year, she hopes to complete her costume portfolio in peace and quiet away from the abuse.
Unfortunately, the only comic shop in town--her main destination for character reference--is staffed by a dudebro owner who challenges every woman who comes into the shop.
At her twin brother's suggestion, Cameron borrows a set of his clothes and uses her costuming expertise to waltz into the shop as Boy Cameron, where she's shocked at how easily she's accepted into the nerd inner sanctum. Soon, Cameron finds herself drafted into a D&D campaign alongside the jerky shop-owner Brody, friendly (almost flirtatiously so) clerk Wyatt, handsome Lincoln, and her brother Cooper, dragged along for good measure.
But as her "secret identity" gets more and more entrenched, Cameron's portfolio falls by the wayside--and her feelings for Lincoln threaten to make a complicated situation even more precarious in this geek girl anthem from 
You're Welcome, Universe
 author Whitney Gardner, complete with fully illustrated comic pages inked by Gardner herself.