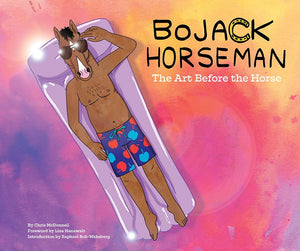 Netflix's 
BoJack Horseman
 has quickly become one of the most critically acclaimed animated comedy series in recent memory. Set in an off-kilter, cynically spun rendering of modern-day Hollywood, the show follows washed-up horse actor BoJack Horseman (voiced by Will Arnett) as he attempts to turn his life around. 
BoJack Horseman: The Art Before the Horse
 is the official behind-the-scenes companion to this cult-hit series. Part oral history sourced from original interviews with the show's cast and crew, part art book—including sketches, storyboards, and background art—this book will trace the series from conception to post-production. Beginning with the initial development of creator/ showrunner Raphael Bob-Waksberg and production designer Lisa Hanawalt's inimitable aesthetic vision, 
The Art Before the Horse
 goes on to reveal all of the moving parts—direction, writing, casting, animation, and music—that come together to form this uniquely bleak, emotionally potent, very funny show.