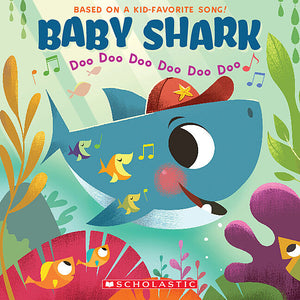 Show you're team Baby Shark all the way and love how the song makes your kids giggle, we've got great news. Everyone's favorite kids' song of 2018 is now a kids' book! Get the Baby Shark book, and you and the kids can read, sing and dance it out — even when there's no Wi-Fi (your data plan and their future reading teachers will thank you).
Not only is the book an easy way to #win the holidays this year or grab yourself that coveted 'favorite auntie' crown at an upcoming birthday, it's also pretty useful for anyone who needs to brush up on their Baby Shark dance moves. Along with the song lyrics and playful illustrations of Baby Shark and the fam, each page of the book shows hand gestures that go with each verse.
And after reading this book a few (hundred) times, you'll finally know for sure whether Grandma Shark comes before or after Grandpa Shark. There's even a dance guide at the end to help you put it all together, maybe before filming your very own video?